School Council meet each week to make decisions on behalf of all pupils.
School Council is made up of two children from each class (Year 3 upwards). Children are voted on to School Council at the start of each academic year by the pupils in their class.
---
Food Tasting - Thursday 13th July 2023
Some of the school council took part in a tasting session of various potato options for next year's menu.
They tasted plain and flavoured homemade and frozen wedges and plain and flavoured roast potatoes. They were looking at alternatives to chips which can only be served once a week to comply with the National Food Standards. They liked them all but decided on the plain homemade wedges and roast potatoes, they gobbled them up and said they were delicious.
Next year the kitchen will serve a different potato option everyday depending on the menu.
Thank you to the cook and the children for helping with this.
---
Make £5 Grow - Tuesday 11th July 2023
School council had they're last meeting of the year. After raising £26 from their 'Make £5 grow' they chose to buy a game of Articulate and some healthy treats of strawberry's, blueberry's, bananas and fruit juice to celebrate all they're hard work this year. We had a lovely game with the 'Galaxy Gang' winning by 5 points.
Well done to all the children this year, it's been a pleasure to work along side you.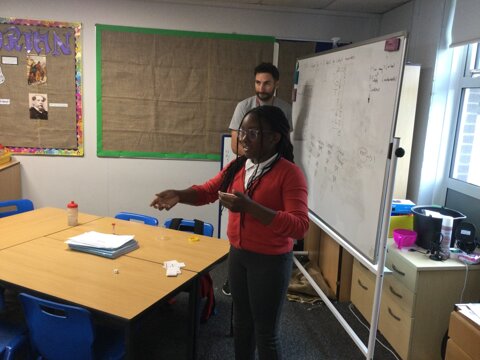 ---
New Initiatives - Thursday 4th May 2023
So, the bus is up and running and being regularly used at break times and lunchtimes and upstairs has been used by classes on a regular basis for whole class reading or siesta.
Now this has become less of a priority for school council, although they are still keeping an eye on it to make sure it is being used correctly, our focus has changed. We have split into 3 groups. One group are working hard with Mr Emerson trying to improve the school's carbon footprint and looking at things we can do to save energy. Not only is this imperative for the environment, but also goes a long way to the school saving money which can be used on more useful resources in classrooms.
Another group worked on making a successful Red Nose Day, in which we raised nearly £800 in total, selling buns, face painting and wearing something red, while the other group were working on a timetable for the MUGA which is to be trailed shortly.
Now these are complete, the two groups have been set a challenge of 'Make £5 Grow'. They are currently working on what they can spend their money on so they can make items to sell on and increase their profit. We will keep you informed as this challenge progresses.
---
New Initiatives - Tuesday 14th March 2023
Over the last few weeks, school council have been working hard on a few different topics. We have come up with some good ideas for us to focus on this year. Together, they have conducted a survey in their classes about school dinners and written a report to feedback to the school lunch company with a view to improve them to suit the children's tastes.
We have also organized the Red Nose Day event encouraging children to raise money for Comic Relief by wearing something silly or red, buying buns and getting their nose painted red.
A group of children have been working with Mr Emmerson to reduce the carbon footprint of the school. They have been looking into a variety of different ways to do this.
There are many other initiatives that school council are working on, including ensuring the effective use of the MUGA and ensuring every pupil has the opportunity to have a voice in school council by writing their ideas on a card and leaving it their class Pupil Voice Box.
We will update you with more information as things develop.
---
The Reading Area Appeal - Friday 13th January 2023
Last half term school council worked really hard to get the bus up and running and, we are please to announce, that it is now open and being used successfully by Years 3-6 at breaktimes and lunchtimes. Year 1 and 2 will be using it very shortly and reception will be taking some visits as a class too. All the children are very excited.
This week in our school council meeting, the representatives voted for this years officers. Nazarite was elected as the chairperson and Aleena and Emem as her vice chairs. We have two treasurers, Kelvin and Lydia, and Cherish is our secretary.
We have decided upon a short agenda for next week. We will be discussing our improvement ideas for the school, introducing more opportunities for pupil voice in the class room and opening the floor for any other business.
We will keep you updated on our discussions each week with the meeting minutes and regular updates.
---
The Reading Area Appeal - Friday 16th December 2022
Last year School Council worked really hard contacting local businesses for donations to the bus appeal. Because of this, Manning Stainton have kindly donated 10 Amazon Fire 7 tablets so children can listen to audio books on the bus. The bus will be up and running for children to use in the new year.
---
The Reading Area Appeal - Tuesday 26th July 2022
It's finally arrived. There is still lots of work to do over the summer, but the St Bart's Big Book Bus has arrived and is in situ in the playground. The children are all very excited to see it and are looking forward to getting in there next year.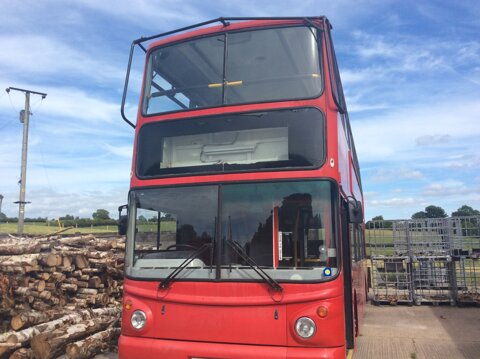 ---
The Reading Area Appeal - Friday 24th June 2022
School council have been working hard to make their idea become a reality. Over the last few weeks we have been busy choosing and ordering a suitable bus and, this week, we have been on a site visit to see it. We came up with some layout ideas and we are very excited to see how it all turns out. There are other jobs we need to complete before the big arrival, so watch this space.
---
The Reading Area Appeal - Monday 21st March 2022
In todays meeting Mr Worsnop presented a website (letslocalise.co.uk) to help the school council with their fundraising. The children then used this to decide what they wanted their local area to help with and created a new post. It was really helpful and gave the children a new focus.
---
The Reading Area Appeal
School council are excited to reveal their latest project. One of the representatives came up with an idea related to our whole school focus around enjoyment of reading. The rest of the delegates agreed and the Reading Area Appeal has taken shape.
They have split into two groups, a buildings group and a fundraising group. The children in the building group have researched how they want it to look, what they will need to order to achieve this, how much it will cost and where we may get the supplies. The fundraising group have researched national companies who have previously donated to other schools and their projects, localised franchises of large companies and smaller local companies involved in the community, to ask for any donations to our appeal.
We have asked for specific items to be donated as well as money to go towards the appeal.
We are currently awaiting the response of these companies, although we have had a positive response already.
In future weeks we are going to respond to these emails as well as design posters and fliers to be dropped around the local area for any other donations that we may need.
If you have any contacts or know of anyone that can help in our appeal, please email the school council (who meet and will respond every Monday) at schoolcouncil@stbartsleeds.org.uk.